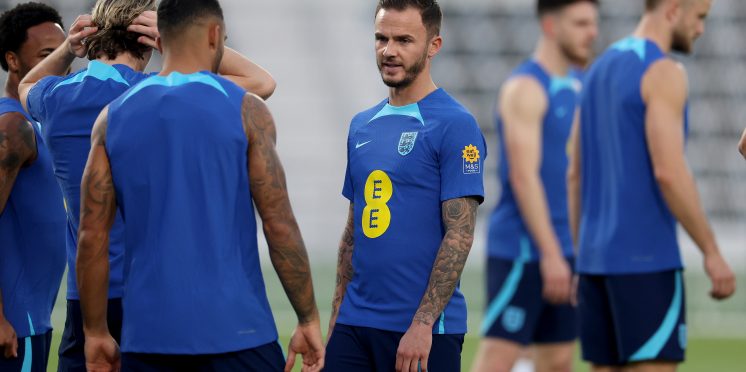 Newcastle could "break wage structure" for £60m star
Newcastle United will need to "break their wage structure" in their bid to acquire England and Leicester City star James Maddison.
What's the word?
That is according to Sky Sports reporter Keith Downie who believes the Magpies will need to hand Maddison a lucrative pay packet in order to lure him from the clutches of Brendan Rodgers at the King Power Stadium.
As of right now, Downie is unsure as to whether the Toon would be willing to make Maddison their highest-paid player above Kieran Trippier, who currently earns £144k-per-week.
Speaking to GIVEMESPORT, Downie said: "What Newcastle would have to do for James Maddison is break their wage structure.
"Obviously, he's going to be wanting significantly more than he's on at Leicester with his contract running down. It's just whether Newcastle are willing to go to that number."
Worth it?
For an underrated England star who forced his way into England's World Cup squad through consistent and stellar form for Leicester, uprooting the wage structure at Newcastle United may just be worth it.
If the side are to progress in line with their Champions League ambitions, which they are currently fulfilling, quality additions will need to be made and genuine improvements will not come cheap.
Ultimately, Maddison ticks a few boxes for Eddie Howe and co. At 25-years-old, he has his prime years ahead of him and has developed well since his move to Leicester, becoming a genuine, upper-echelon Premier League figurehead.
His status as a "homegrown" player will also help the side align themselves with future demands, with Maddison a loyal player who could develop and stick around at St James' Park for years to come.
20 attacking returns in the form of 12 goals and eight assists across 35 Premier League games last season underlined his quality, with a further seven goals and four assists from his first 13 Premier League games this season finally seeing the star get the attention he so warrants.
For a star capable of such direct impact, Newcastle will need to splash the cash, with a sum to the tune of £60million said to be enough to prise him away from Leicester.
---