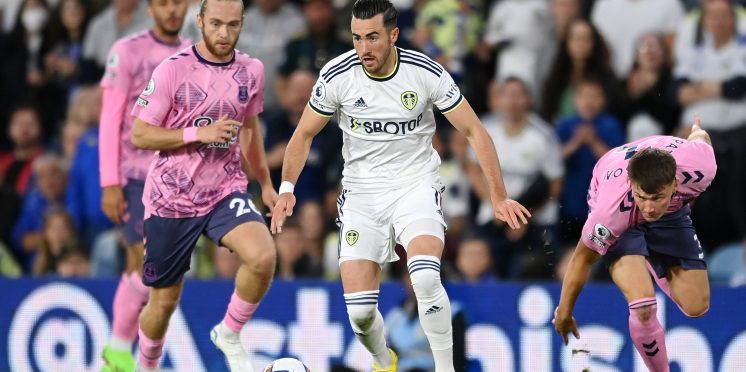 Agbonlahor backs PIF to land £60k p/w target for Newcastle
Former Premier League striker Gabriel Agbonlahor is convinced that Jack Harrison will make the move to Newcastle United due to the wages they can offer.
The 25-year-old was the subject of multiple offers from the Toon in the summer transfer window, with a bid in the excess of £20m turned down according to The Athletic. 90min also reported that Leeds 'swiftly' rejected a £25m approach from Newcastle.
Harrison himself seemingly left the door open for an Elland Road exit, responding to speculation by saying: "We'll see, we'll see what happens".
His manager Jesse Marsch stated that the winger 'unintentionally' brought attention to himself with the comments, and it is now being claimed by The Northern Echo that the Whites are hoping to agree to fresh terms with the £60k-per-week ace.
Harrison backed for possible Newcastle move
Asked whether Harrison would look to have a release clause inserted in a potential renewal, BT Sport co-commentator Agbonlahor told Football Insider: "It's more than that. It's 'Can I go and get double-and-a-half my money at Newcastle? Or, sign for a little bit more at Leeds?'
"Leeds won't be big payers. Maybe, he's looking at that. Football, yes, you love playing at clubs but you want to be earning as much money as possible.
"Maybe that's going through his mind. He'll see Dan Burn, Trippier and all these players going for big money wages and thinking of that himself. I don't think he signs a new contract unless Leeds improve his pay a lot."
Leeds won't let him go easily
Having sold two standout players in Kalvin Phillips and Raphinha in the summer, Leeds' reluctance to let go of last season's second-highest scorer at the club (10 goals) is perhaps understandable.
However, they could be tempted to make a hefty profit on the man on whom they spent just £11m to sign permanently at the start of the 2021/22 campaign, following a lengthy loan spell from Manchester City.
The former England under-21 international has already been involved in four goals in six appearances this term and could be a very worthwhile prospective addition to Eddie Howe's attacking ranks, so it will be interesting to see how his situation develops between now and the January transfer window.
---