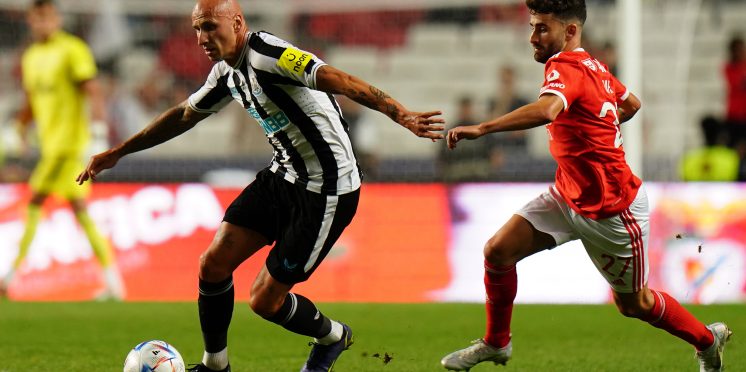 Medical expert provides encouraging update Jonjo Shelvey
Injury specialist Ben Dinnery believes that Jonjo 'might be ahead of schedule' when it comes to his return from injury.
Shelvey is yet to make an appearance for the Toon this season, having been struck with a hamstring injury in a pre-season friendly against Benfica.
As relayed by the Dinnery-led website Premier Injuries, Eddie Howe did state last week that the 30-year-old was back on grass and "looking in good physical condition".
The medical expert has now told Football Insider that Howe's comments could point to an early return, which would be before the mid-season break for the upcoming World Cup.
He said: "The initial timeline suggested that we could be looking at about 12 weeks.
"That's a realistic assumption with this sort of injury. It appears that he might be ahead of schedule, however.
"The initial timeline might have seen him held back until after the World Cup break. But now, the aim is certainly going to be before that break.
"Realistically, even though he is back on the training pitches, it could be another four to six weeks. We know hamstring problems are prone to re-injury.
"You don't really know how a player will respond to an increased workload until they are in the thick of it. The road to recovery is never straight. There are always bumps along the way.
"We know Howe is a massive, massive fan of Shelvey. You can argue that they are missing someone like that at the moment, someone who can unlock doors with his range of passing.
"If he was to return before the end of November, that would be a massive bonus for Newcastle."
With 20 appearances under Howe last season, Shelvey ranked second among midfielders for matches played.
He was hailed for his "turnaround" in form during the second half of the campaign by former West Ham man Frank McAvennie and, of players to play 20 games or more for the club last season, he maintained the sixth-highest average match rating (WhoScored).
Shelvey does see his contract expire at the end of the current campaign but if he can emulate the performances he displayed last term when he returns to action, he could well earn himself an extended deal.
---