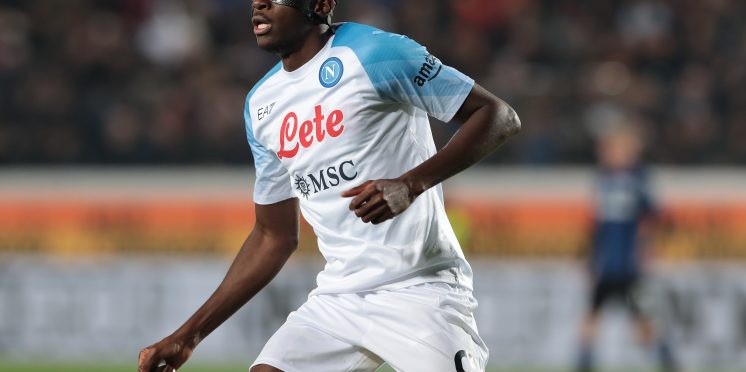 Newcastle: Inside PIF's bid for £88M striker
Newcastle reportedly put forward a bid of €100m (£88m) in January to secure the services of Napoli's 37-goal striker, Victor Osimhen.
That is according to Corriere dello Sport, via SportWitness.
The report states that the proposal was put forward following PIF's acquisition of Newcastle, with the Tyneside outfit left looking for striking options.
In the same piece, they state: "When Newcastle, last January, launched messages that were anything but subliminal, and let [Napoli] see €100m ready to close the deal, Napoli pretended nothing happened, kept the wealth of their jewel and thought to build the future around him."
Of course, nothing prospered and Newcastle picked up Alexander Isak from Real Sociedad in the summer.
PIF's big ambitions
There are so many potential twists that could have come with the signing of Osimhen from Napoli.
With Qatar-bound Callum Wilson earning an England call-up, you have to ask, would this have been the case if the Magpies had pulled off the signing of Nigeria striker Osimhen?
Game time would have been a lot harder to come by, with the 23-year-old proven in multiple leagues, boasting a healthy return of eight goals and two assists in ten Serie A games this season.
The Nigeria striker is a fan of both Harry Kane and Didier Drogba and has openly expressed his inspiration for the pair in an update relayed by Fabrizio Romano: "Victor Osimhen on his future after Premier League links: 'I'm very happy at Napoli, I feel really good here. This city makes me happy", tells Corriere dello Sport.
'My inspirations are Harry Kane and Didier Drogba'."
Osimhen has been linked with a move to the Premier League for a while now and it is one of those moves that is almost bound to happen, it's just a case of when.
Newcastle could still get their hands on the star in years to come, but having made a fair bid for the star last year, PIF's ambitions were made clear from day one.
---