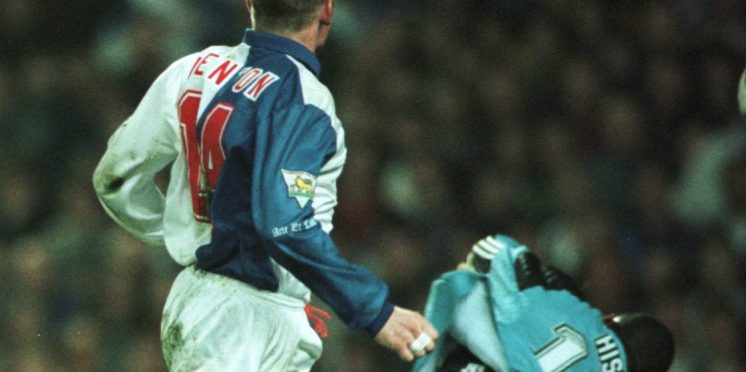 Newcastle United fans share memories of costly Fenton double in 1996
Newcastle United fans have been reacting to Graham Fenton's double for Blackburn Rovers back in 1996, a double which would eventually cost the Magpies the Premier League title.
Sitting second in the Premier League behind Manchester United, Newcastle looked like they were going to close the gap on Sir Alex Ferguson's side when David Batty gave them a 13th minute lead.
However, Fenton had other ideas as he produced one of the best performances of his career.
The Blackburn Rovers striker would net an impressive double to ensure three points for his side, ending any chance of the Magpies chasing down United for the title.
What would make things even worse for Newcastle fans was the fact that Geordie Alan Shearer assisted both goals for Fenton.
Shearer would later move to St. James' Park from Rovers in 1996, and the former England striker would go on to score 206 goals in 405 appearances.
Reacting to ChronicleLIVE's tweet on the defeat to Blackburn, countless Magpies fans responded:
Twitter: On this day in 1996: Graeme Fenton broke Geordie hearts as his brace secured a 2-1 win for Blackburn in what was a… https://t.co/8B4zWCLCMH (@ChronicleNUFC)
Twitter: @ChronicleNUFC That name 🤦🏻‍♂️ (@mikepitt84)
Twitter: @ChronicleNUFC Broke me this did 😢🖤 (@LeeHoppy16)
Twitter: @ChronicleNUFC I was at that game, gutting! (@davyj1975)
Twitter: @ChronicleNUFC Isn't he from Newcastle too? 100% a secret mackem Fenton 😂 (@MjaNufc)
Twitter: @ChronicleNUFC That name still haunts my dreams (@gerfagantoon1)
Twitter: @OGeordieexile @ChronicleNUFC Agreed. 11 minutes to go,1-0 up and then disaster. I still dream if only.. (@GaryCottier)
Twitter: @ChronicleNUFC I honestly think this was the game that lost us the league (@OGeordieexile)
---