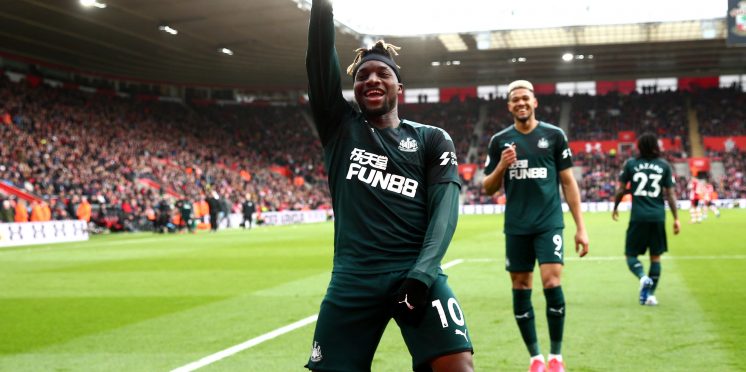 Newcastle fans amused by Allan Saint-Maximin's dig at Sunderland ace
Newcastle United fans have reacted to a tweet from Allan Saint-Maximin, who has responded to a message from Sunderland's Chris Maguire.
Maguire took part in a Q&A session via Sunderland's official social media account and claimed that he would never play for Newcastle.
Having also played in the Scottish Premier League with Aberdeen previously, Maguire is a known supporter of Celtic, prompting him to also claim he would never play for Rangers either.
Moving to the Stadium of Light in 2018 from Bury, Maguire has since made 84 appearances for the Black Cats, netting 28 goals in the process.
The midfielder's comments caused quite a stir in the media, gaining reaction from both sets of supporters, and Saint-Maximin has now shared his own thoughts.
The French winger has become well-known for his social media presence since moving to St. James' Park last summer, and his reply has gone down well with Magpies fans.
Reacting to the Newcastle attacker's tweet, these fans also aimed a dig at the Scottish midfielder.
Twitter: https://t.co/kcopmJcrrm https://t.co/BABa93tw7T (@asaintmaximin)
Twitter: @NUFCgallowgate @asaintmaximin Why is Mike Ashley wearing a Sunderland Kit 😂 (@mcgeachin_jacob)
Twitter: @NUFCgallowgate @asaintmaximin He eats all the pies 😂😂 (@CalXcviii)
Twitter: @NUFCgallowgate @asaintmaximin Well he is only playing sunday league 🤷🏼‍♂😉 (@newbrook82)
Twitter: @NUFCgallowgate @asaintmaximin Not even the best No.7 in league one 😂😂 (@stumarshall10)
Twitter: @NUFCgallowgate @asaintmaximin Who ate all the cheesy chips (@BruceScott93)
Twitter: @NUFCgallowgate @asaintmaximin He's carrying a bit of timber isn't. Who ate all the pies (@OGeordieexile)
Twitter: RT @NUFCgallowgate: @asaintmaximin Just googled him, look at this kite! #NUFC 😂😂😂 https://t.co/ZZjZsmy2iJ (@NUFCgallowgate)
---